The messaging service Telegram is highly popular on the Russian speaking internet. With Facebook blocked and Twitter restricted, it's also one of the last social network applications fully accessible to internet users in Russia.
In recent days, it has been a vitally important tool for documenting the Russian invasion of Ukraine — ordinary Ukrainians regularly post videos and photos attesting to the scale of destruction caused by the war. This material has allowed us to geolocate multiple attacks on civilians and establish the Russian military's use of cluster munitions.
But the online media environment in Russia and Ukraine at present is highly volatile. Archiving content from the ground ensures it can still be used by researchers if a user deletes a post, if a channel is removed, or if an entire platform becomes inaccessible. For any type of internet content, links stop working over time, a phenomenon known as "link rot." Archiving content can preserve it for years.
On February 25, the Telegram channel @MariypolCalling posted a video of Russian troop movements prior to the invasion. At time of writing, this post is no longer viewable due to a supposed moderation action.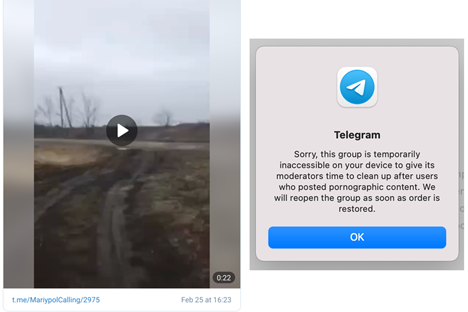 However, we have a copy, because we archived it when we saw it — and you could too.
That's because Telegram is one of the easiest communication platforms to archive, and one of the last that can preserve image metadata — a privacy risk to users, but often a boon to open source researchers. Telegram's chat export formats also make it easy to translate an entire channel using Google Translate. The steps are simple even for non-technical users.
Telegram content can be useful in many other contexts. For example, Bellingcat has previously archived Telegram posts for multiple investigations into far-right groups and the QAnon conspiracy.
While the examples provided below focus on generic groups unrelated to any of the topics above, the principles described can be applied to any Telegram group or post.
How to archive a specific post, image, or video
The easiest way to archive media is by using the Telegram desktop application, available for Windows, Mac, and Linux. Then, you can save media by simply right-clicking on an image or video and clicking "Save as…". If the image is attached as a file, it will contain all original metadata too.
by Bellingcat Investigative Tech Team, International Journalists' Network
Photo by Christian Wiediger on Unsplash
Related posts
Magazine Training International's mission is to encourage, strengthen, and provide training and resources to Christian magazine publishers as they seek to build the church and reach their societies for Christ.