In June 2023, the Reuters Institute for the Study of Journalism published its latest Digital News Report. The 2023 publication covers 46 markets around the world and features findings from a survey of more than 93,000 digital news users.
I've dug deep into the report to identify some of the most interesting findings, focusing on data from outside the U.S. Here are five takeaways – and their implications – that you may have missed.
(1) TikTok is no longer a fringe channel
Proof, if it were needed, of the importance of the Chinese-owned app is front and center in the new report. TikTok is the fastest-growing social network in the Institute's survey.
One in five 18-24-year-olds (20%) harness the platform for news, with nearly half of this demographic (44%) using the network on a regular basis. For outlets wanting to reach younger audiences, this provides strong evidence that a presence on TikTok really needs to be part of your portfolio.
Generally, usage of TikTok is heaviest in parts of Asia, Latin America and Africa, while the popularity of the platform for news is highest in Peru and Thailand (30% having used in the past week), with Kenya (29%) following close behind. Journalists and media companies may want to look at these markets to determine some of the lessons that they can apply to their own approaches, andlook to learn from their peers at some of the bigger outlets (e.g., The Washington Post) that are on this platform.
It's also notable that "while mainstream journalists often lead conversations around news in Twitter and Facebook, they struggle to get attention in newer networks like Instagram, Snapchat, and TikTok," the report notes. In those spaces, "personalities, influencers, and ordinary people are often more prominent, even when it comes to conversations around news."
Again, there's much to learn in terms of why that's the case and how these groups use the platform. It highlights, too, why partnering with personalities and influencers may be important for newsrooms if they want to increase their impact on TikTok.
The data also shows that TikTok viewing isn't just focused on "fun news" and viral content. In some markets, it's also a popular channel for diving into domestic politics, health news and wider geo-political events. Understanding these behaviors is important if newsrooms are to tap into TikTok's potential by offering the right content mix on the platform.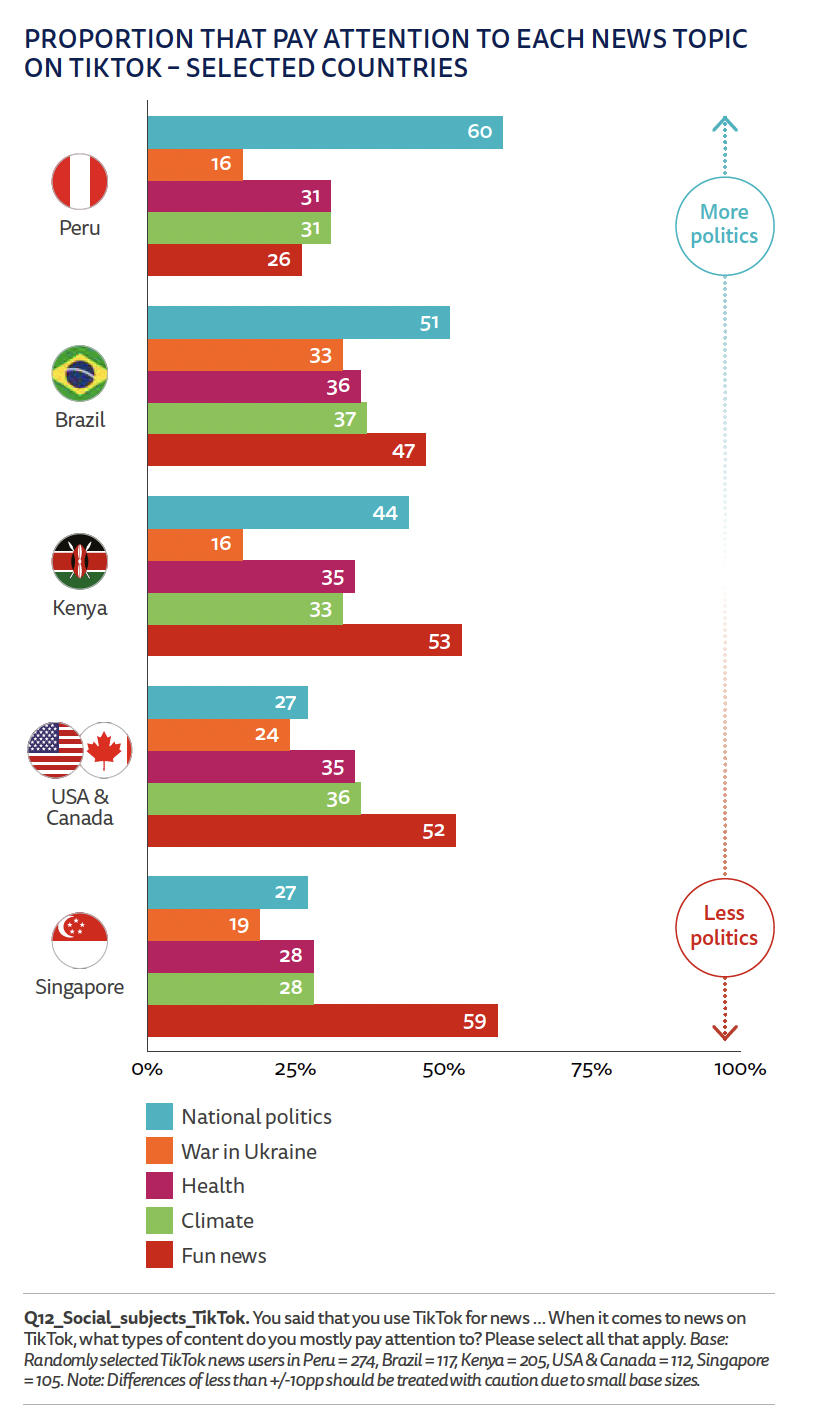 (2) Online misinformation is a huge challenge (and an opportunity for newsrooms)
More than half (56%) of survey respondents reported that they struggle to discern between fact and fiction online. Concern levels are highest in Africa, with more than three-quarters (77%) expressing this concern.
These misgivings can be seen around important topics such as politics, health, and climate change. And the volume of misinformation is shown to increase, in countries such as Kenya and Nigeria, during elections. This is a period when journalists – and consumers – need to be most on their guard.
We seldom see a consensus about how to best tackle this scourge, but news organizations can play a key role in verification, fact-checking, combating rumors and promoting the media literacy skills that netizens need to flourish online.
The report notes that in Taiwan, for example, Watchout (沃草), an independent media organization, produces handbooks on how to spot disinformation; and the Taiwan Fact Checking Center, publishes dozens of articles each week "on issues ranging from consumer scares to geopolitical propaganda."
Elsewhere, in countries such as Australia and Singapore, efforts are underway to develop codes of practice and consistent ways of dealing with misinformation.
by Damian Radcliffe, International Journalists' Network
Photo by Bethany Legg on Unsplash
Related posts
Magazine Training International's mission is to encourage, strengthen, and provide training and resources to Christian magazine publishers as they seek to build the church and reach their societies for Christ.